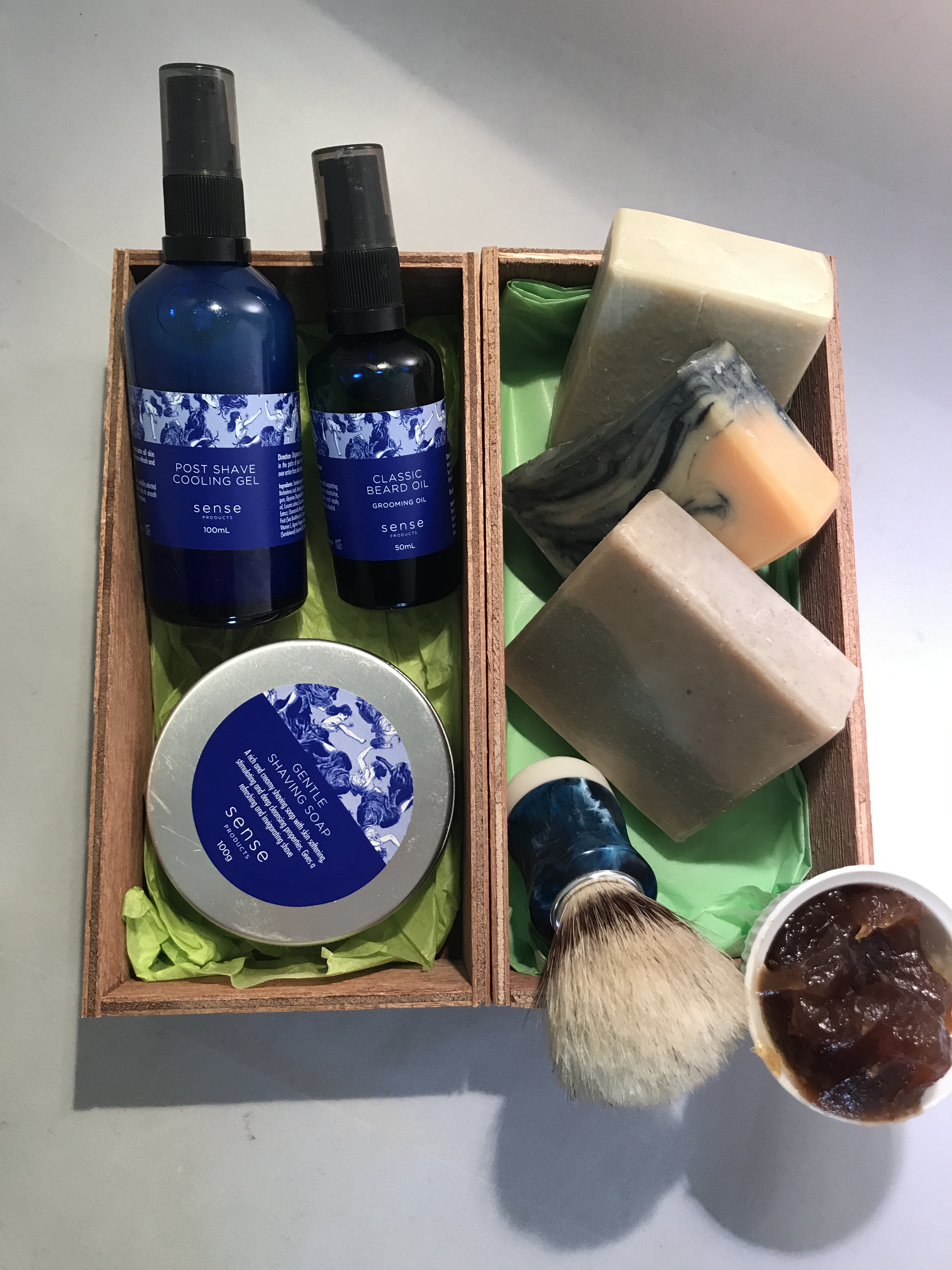 Movember-a campaign that started as a charitable initiative to grow a mustache in the month of November in order to raise funds for cancer awareness amongst men, created change in which man are looking beyond simply fulfilling the minimum requirements for image and grooming. Looking presentable and blending in are the goals…
Choosing products to keep your skin looking healthy is extension of maintaining good presentation. Products need to feel light and non greasy to touch.
So pick some products that are a mixture of proven results and natural ingredients, products that are owned and made right here in Australia.
In general ,men should have a specific short routine which involves cleansing, moisturising and hydration.
 Product for cleansing -facial and body soap and a scrub
People buy soap as a cleansing product.Properly made handmade soap is the mildest soap product that can be made.
What the boys are looking for in a soap- is lather-a dense collection of creamy bubless that will last. The soap has to also combat skin issues that many man are facing such as adult acne and fungal infection.Activated Charcoal will draw bacteria and dirt to the skin surface which are than washed away by soap bubbles. Dead sea Mud is packed with minerals and salts helps with skin cell turnover and rejuvenation.
Both Activated Charcoal and Dead Sea Mud are mild exfoliants that are well tolerated by thick male skin.
Men are very concern with visible pores. If you keep pores clean you will also reduce other skin concerns such as pimples and blackheads .
Due to a higher oil production in male skin, especially during puberty and the fact that their skin is tougher –males need scrubby cleanser for exfoliation. Dead Sea Mud and activated charcoal have been known to combat acne in combination with TeaTree essential oil which is known for its antiseptic properties.Dead Sea Salt also fights acne.
Choose Sense products Castile olive oil soap or Aleppo down under soap.
Exfoliate your skin two or three times per week using purifying Exfoliating Paste-Hammam Black soap– which has exceptional exfoliation properties, sloughing away tired surface skin resulting in thoroughly purified revived skin.
Product for shaving with a good lather
Product for moisturising(after shave)– which should have mild astringent affect to close the pores after shaving but should not be drying to the skin.Herbal extracts and vitamins are being incorporated to help provide that .
Sense products Post Shave Cooling Gel will deliver moisturising care and fresh sensation long after you apply it. It is fast absorbing lightweight gel that will keep your skin calm and moisturised. Fragonia Essential oil has significant anti microbial activity making it useful for many things including minor cuts and wounds, abrasions and pimples. It has a pleasant fresh aroma with a hint of citreous note and sweet balsamic undertones
For man with beard-Sense products Classic Beard oil that will moisturize and maintain fuzz,acts like a conditioner and makes the beards soft while promoting healthy growth.
FACIAL CARE PRODUCTS for man should be relatively light and low in oil content,easily absorbed and have a soothing feeling after application.
Sense products pride itself on delivering products that are :
-Free from parabens
-Free from petroleum based products
-Hypoalergenic
-Non greasy
-Natural active ingredients
Products that are protecting, replenishing and boosting the natural and healthy appearance of male skin.