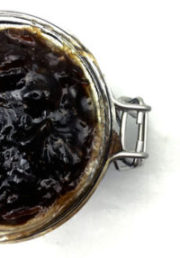 A real beauty tool for the body – suitable for all skin types.

Many centuries ago Black Soap was introduced in Syria. It made its way to Morocco where it was given the name Beldi. Made from olive oil, it was improved by the addition of actual Olive pulp, which is what remains after olives are crushed and the olive oil is extracted.  Black Soap is an integral part of the traditional Hammam ritual, the first treatment applied in the public baths of Turkey and Morocco.
After a few minutes relaxing in the bath or hammam steam room, beldi soap is applied all over damp skin and left on for up to 10 minutes. This prepares the skin for exfoliation by softening it, making it scrub-ready.  It is then rinsed off while the skin is vigorously scrubbed all over with a kessa glove. As it exfoliates and moisturizes, it softens and nourishes the skin.
With the luxurious texture of butter, this vegetable paste of black olives pulp is rich in vitamin E. Combined with an action of kessa gloves it will remove impurities and dead skin, while increasing blood and lymph circulation. The soap makes the skin silky smooth, radiant and younger looking. After the scrub your skin is ready to better absorb your next care treatment whether it will be tanning, mask or moisturizing.
It is suggested that Black soap treatment should be done before waxing, as it offers the skin a deep cleanse and purifies it by removing dirt and dead skin.
Check out my hammam black soap here.